Lancashire Life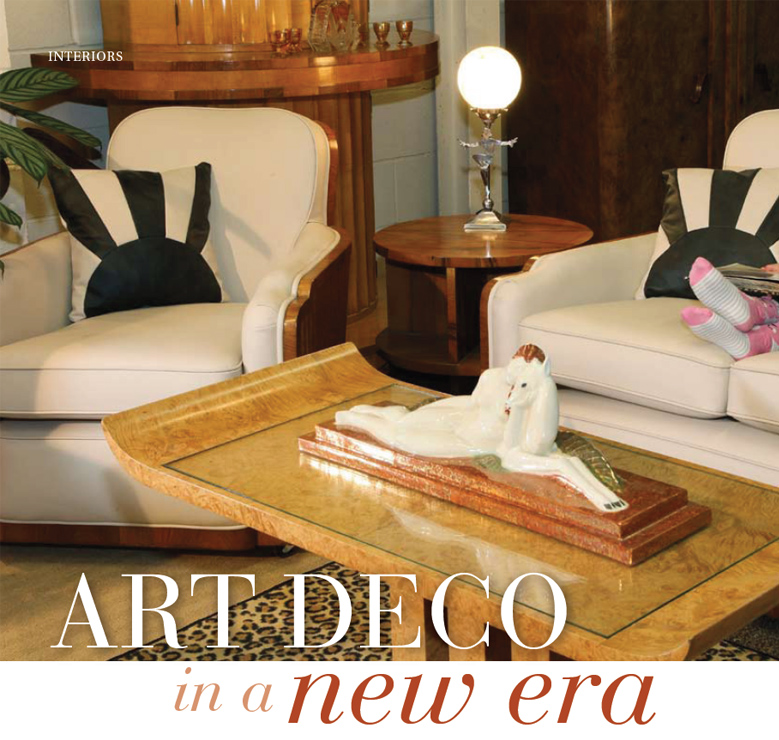 A Standish family are keeping the art deco era alive with their specialist skills. Emma Mayoh reports
PHOTOGRAPHY BY JOHN COCKS
It is not the first place you'd expect to find work by all of the art deco design greats. Legendary names in furniture making like Ray Hille, Harry and Lou Epstein and Maurice Adams created their striking pieces in the 1920s and 1930s for Britain's upper crust families.
Today, their work is increasingly rare and the chances of finding an original are slim. But hidden away, in a former mill on a Standish industrial estate, are dozens of items produced by these giants of the industry.
Cloud 9 Art Deco, based in Douglas Mill, has been a passion for Terry and Lynne Davies for the past 15 years. It was doing up their own home that first fuelled their enthusiasm for items from this
stylish period. Terry had spent much of his career as a car interiors specialist, working on classic and vintage vehicles including the car that appeared in the film, Chitty Chitty Bang Bang. But it was when he started re-upholstering threepiece suites that Cloud 9 was born. Work began in a shed at the bottom of the garden but now they have a warehouse, showroom and workshop in the mill.
Terry, alongside son-in-law Gordon Thorpe, carries out the upholstery and traditional repolishing to these cherished items of furniture and Lynne and daughter, Donna, source the originals from auctions and private sales. No large restoration projects take place here. They specifically look for furniture in mint condition. Traditional techniques are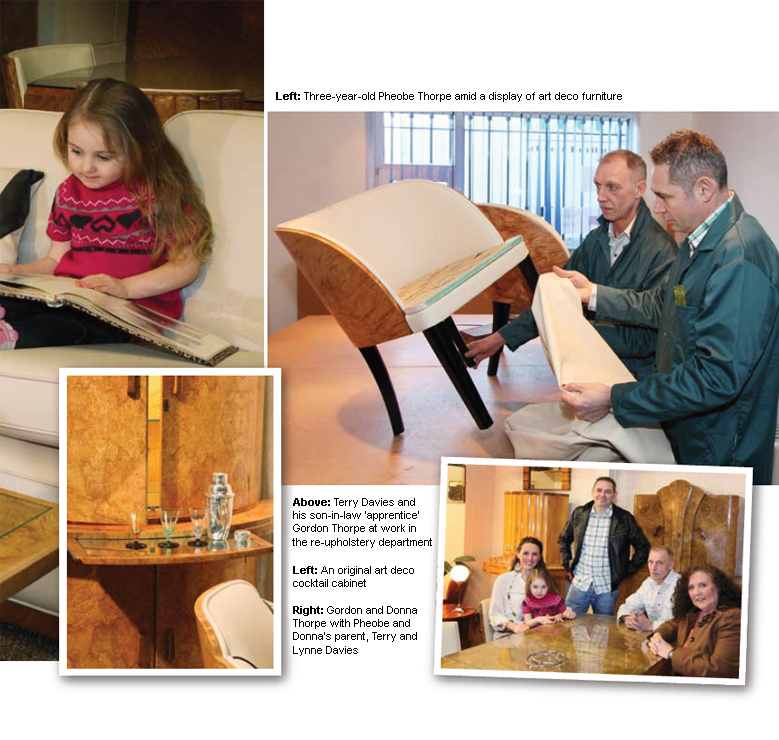 used to upholster suites and armchairs in fabric chosen by a client.
Terry said: 'What we do is really specialist. There is no one else in the country with the stock we have and doing what we do. We don't take on items that are falling to bits. We look for rare pieces of furniture from that period. The mid 1920s was the dawning of a new age. All of the early makers were producing for the extremely wealthy.
'People like Maurice Adams would have been making for the aristocracy. Their designs are the epitome of American cinema glamour. We have furniture that will blow you away, the kind of things you will only see once in your lifetime.'
The Cloud 9 showroom is a treasure trove of items ranging from an intricate art deco desk and bench sourced from the Duke of Westminster's prestigious Eaton Park home to original cocktail cabinets and an Epstein dining suite worth
£12,500. Buyers travel from across the country to get a glimpse of the furniture before they buy it. The firm also personally delivers across the UK and their furniture has been sold to collectors as far afield as New Zealand. It doesn't come cheap with prices ranging from £300 for a small coffee table to the thousands it costs for that special Epstein suite. But Terry maintains it is worth every penny.
He said: 'They are investment pieces that will soon be classed as antiques. They will last for another 100 years once we have done the work on them and they look just as good in a contemporary home as in an art deco property.
'This furniture speaks for itself, it is just fabulous. The designs are so simple but so stylish. No other period produced work that is so chic and glamorous. They were put together very well and built to last.'
After spending 15 years working seven day weeks, Terry and Lynne have decided
to take a back seat leaving the running of the business to Donna and Gordon. The young couple are learning the ropes – Gordon is Terry's apprentice in the workshop and Donna is doing the buying.
Donna, Former NHS worker, said: 'There is so much potential here and it's exciting for us to be a part of that. 'This business needs to be run with passion and we have that because it is our way of life. It is daunting to be taking over but we want to make it a success so we can pass it on to our kids.'