Ordering, Payment and Delivery
ORDERING: Sales Orders can be placed by phone on +44 (0)1257 473688, or e-mail info@cloud9artdeco.co.uk  or by using our online enquiry form to reserve a piece. You can also order in person when visiting our showroom at Unit 12 Douglas Mill, Bradley Lane, Standish, Wigan, WN6 0XF. Appointment only please. 
RESTORATION COMMISSIONS: When commissioning any article of furniture to be restored, a visit to our workshop is preferred in order to discuss your requirements and to choose materials and colours etc. A deposit of 25% is required to secure any item to be re-upholstered or repolished which is non refundable .
RESERVATIONS: We are prepared to hold item(s) and agree terms, please contact us to discuss the options.  
PAYMENT:  We accept electronic online bank transfer, cheque or cash (if you are sending cash please make sure it is by registered post, we cannot accept responsibility for Post Office mishandling). When paying by cheque please allow 7 days for cheque to clear before goods can be delivered, unless covered by a bankers card.
COLLECTION  IN PERSON: Please remember when paying by cheque clearance time of 7 days required unless supported by a bankers card. Please call to arrange a time convenient to both parties.
DELIVERY: Cloud 9 offers a range of delivery options to suit your needs including postal services and hand delivered, second to none carrier service within the UK (mainland). After many years working together we have a couple of gentleman who we trust immensely to deliver our pieces successfully to our valued customers. They are reasonably priced, reliable, helpful and polite; we regularly get feedback to affirm this.
RETURNS: In the event that you need to return an item, please contact us as soon as possible to agree a suitable arrangement. Initial shipping costs will be deducted from the refunded amount unless damaged in transit/delivery which should be reported to us within 24 hours of receiving. Customers are responsible for paying the return costs (unless damaged) and insuring the item until safely received back at Cloud 9 Art Deco, inspected and then refund can be issued. We strongly advise working with us to coordinate the safe return of any item to minimise delays. Please note that where you have ordered a personalised item like specific reupholstery requests/ colours you may not be able to cancel/return for a full refund, but this is discussed and agreed when placing initial order.
WORLDWIDE SHIPPING: Some smaller pieces can be packaged and delivered using reputable, fast international delivery services.
We also work closely with worldwide shipping companies to arrange packing and shipping. We aspire to obtain fair prices and insurances for our customers.
Some places that we have recently sent larger items of furniture to include:
USA
United Arab Emirates
Switzerland
Spain
New Zealand
Ireland
France
Belgium
If you would like to discuss any of the above with us then please do not hesitate to contact us at info@cloud9artdeco.co.uk or call +44 (0)1257 473688
Cloud 9 Art Deco have travelled considerable distances to deliver and also collect our wonderful art deco furniture!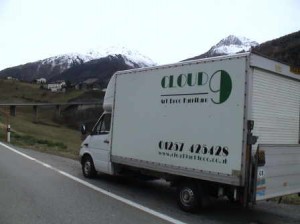 CONTACT PHONE NUMBERS +44 (0)1257 473688 Mobile 07833 097119    You can always be sure to get us!
EMAIL info@cloud9artdeco.co.uk