Our Story
Cloud 9 Art Deco Are Specialists In Original Art Deco Furniture
We specialise in locating and supplying your ideal, top quality Art Deco furniture, Art Deco Seating and Art Deco Decorative items. Click any of these links to take you straight there.
Cloud 9 Art Deco currently stock the largest selection of original 1920's, 1930's, 1940's, upholstered art deco furniture anywhere in the UK. Some of our stock has already been re upholstered in the finest natural grain leathers and is available for immediate delivery to our customers  but many others are waiting for customers to choose their own colours for the upholstery making them totally unique. Please see our archive section or customer comments to see customers finished upholstered Art Deco suites etc. We stock, Art Deco bedroom chairs, Art Deco easy chairs, Art Deco club chairs, Art Deco bentwood chairs and Art Deco loungers etc. Not forgetting the largest selection of Art Deco three piece suites to be found anywhere in the U.K. Selected items of our current stock can be offered in its original condition.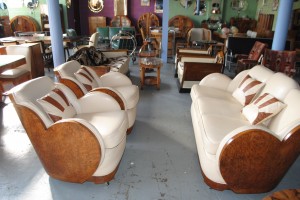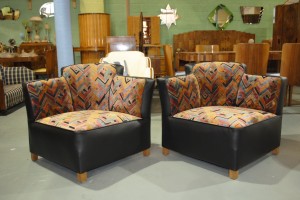 To compliment our extensive stock of Art Deco suites, we also carry a wide variety of Art Deco furniture, to grace any room in the house and even the garden. Our stock of original Art Deco dining room suites, Art Deco bedroom suites, Art Deco display cabinets, Art Deco drinks/cocktail cabinets, Art Deco coffee and occasional tables, Art Deco bookcases and Art Deco bureaus etc., can be viewed online in the shop.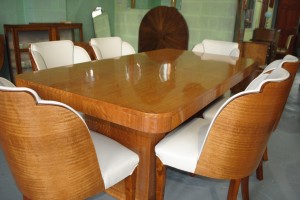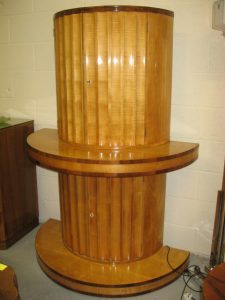 To sit alongside those fabulous furniture items from art deco designers such as Art Deco Hille furniture, Art Deco Epstein furniture, Art Deco Maurice Adams Furniture , Alain Delon etc. We also have a Decorative section on this site where you will find all of those items to set off your Art Deco room perfectly, from an Art Deco mirror, Art Deco lights and Art Deco lamps to Art Deco figures. We also have Art Deco clocks, Art Deco prints, Art Deco glassware and much more. Cloud 9 are always acquiring other fantastic, smaller, collectables such as Art Deco Josef Lorenzl figures, Art Deco Max Le Verrier figures, Art Deco Dimetre H Chiparus figures, Art Deco Pierre Le Faguays figures, Art Deco Ignacio Gallo figures, Art Deco George Maxime figures and many more. What a collection!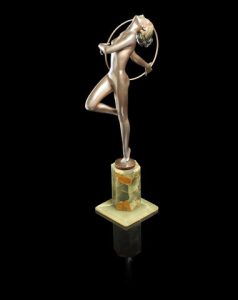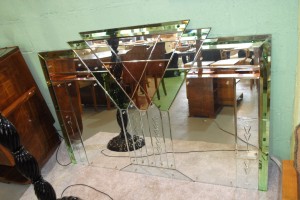 How We Started
Cloud 9 has very much been a family run business for the last 25 years.
50 years ago Terry Davies was initially a car interior specialist working not only on classic and vintage cars but servicing local car dealers and private customers with small seat repairs etc. Although on a smaller scale the trimming aspect is still in place even today with contract work making hoods for kit car manufacturers and VW campers conversions. One claim to fame was re trimming the original Chitty Chitty Bang Bang in our workshop to celebrate the cars 21st birthday back in 1988.
Some years later Terry with his wife Lynne decided to expand the business and together with their love of the Art Deco period created Cloud 9. In the beginning the focus was putting their many years of upholstery experience and skills to good use by displaying original reupholstered 1930s 3 piece suite and armchairs at Art Deco fairs up and down the UK.
Renowned for taking every opportunity, it soon became apparent that customers wanted to choose their own colour and material hence opening up a totally new direction for the business. They decided to store all of the original Art Deco soft furniture so that they could offer customers the option to view all the varied original 1930s stock, select their preferred style and shape of suite, chaise or daybed and then choose their own colours etc. An experience that still today Cloud 9 Art Deco believe to be unique.
From this the business continued to grow and become more and more successful enabling them to add dining suites to the inventory before very quickly progressing to stocking the whole array of Art Deco furniture that you can possibly think of from coffee tables and sideboards to cocktail bars, bookcases, display cabinets, desks and bedroom suites.
Where Are We Today?
In January 2012 their daughter Donna and Son in law Gordon took the reins and the running of the business as they had massive plans to expand the business taking both the website and stock to a whole new level. Donna and Gordon maintained the passion and ethos behind Cloud 9 which is treasured by both the family and many of its customers. They had the enthusiasm and motivation combined with knowledge and experience of owning and running other businesses to ensure that Cloud 9 Art Deco continued to develop and expand in the future.
Sadly in 2017 Gordon passed away leaving Donna at the helm. Donna was determined and to this day remains passionate about their business, ensuring that Cloud 9 Art Deco continues to thrive.  With an outstanding reputation for quality of work, Donna, Dad Terry and small Cloud 9 team are continuing to do all the reupholstery and repolishing, guaranteeing that the highest standards are retained. The customer and after sales service has also continued to be second to none.
Over the years Cloud 9 Art Deco have added to their furniture/seating stock to now include, lighting, mirrors, glassware, ceramics, bronzes, figurines, prints and paintings, just about everything  you can imagine to meet your original Art Deco needs and furnish any room and in many cases entire homes.
The website www.cloud9artdeco.co.uk has become firmly positioned at the top of Google worldwide and consequently brought in repeat customers from all over the world, even Film and TV companies who need original 1930s furniture for period dramas etc. They have also featured on Grand Designs trade secrets to demonstrate the skills used to reupholster and restore/repolish the pieces.
We hope that you enjoy our website www.cloud9artdeco.co.uk and can someday visit. Seeing in person our stock displayed in our 5000 square foot showroom is quite something, to fully appreciate the variety and quality of original circa 1930s pieces. We promise that you won't be disappointed, it is a must for art deco enthusiasts.
Thank you, as always for your continued support.
Donna